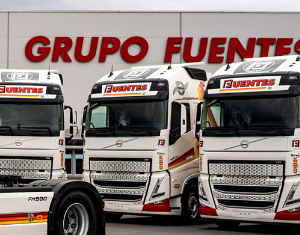 Lineage Logistics, LLC, one of the world's leading temperature-controlled industrial REIT and logistics solutions providers, announced its intention to acquire Grupo Fuentes, a major operator of transport and cold storage facilities, headquartered in Murcia, Spain.

Grupo Fuentes operates a fleet of over 500 vehicles and trailers, 6 logistics centers, a cold storage warehouse, and services supporting those facilities. It is also a founding member of Reefer Terminal, a strategic partnership to create an intermodal transportation platform combining road and rail cold-storage transport services.

Rafael Fuentes, CEO of Grupo Fuentes, said "My father started the company with just one truck more than 30 years ago and the business has grown into one of Spain's leading providers of transportation and logistics services. I am proud to look forward to having the company form part of Lineage, as part of a global group at the forefront of innovation in the sector. The Fuentes family is expected to continue to lead Lineage's business in Spain, and will play a leading role in Lineage in Spain and in the expansion of Lineage's road transportation network across Europe, and oversee the integration of Grupo Fuentes into the Lineage family."

Harld Peters, President of Europe at Lineage said "Spain is a major food producer in Europe, and our expanded presence there through the acquisition of Grupo Fuentes will allow us to manage a strategic connection between Southern Europe and Northern Europe, where Lineage has a strong existing footprint. Grupo Fuentes will accelerate our ongoing expansion into transport services, which will enable us to deliver end-to-end solutions for our customers throughout the Lineage network and Europe broadly."

Grupo Fuentes is headquartered in Murcia, with offices in Galicia, Madrid, Navarra, Valencia, and the Netherlands. The company counts some of Spain's major food and retail companies as customers, with a significant share of the business providing cold storage, transport, and international transport services covering Belgium, France, Germany, Italy, the Netherlands, Portugal and the UK.

Grupo Fuentes has a cold-storage warehouse in Murcia with 60,000 pallet positions and plans to expand the site with an additional 40,000 pallet positions.

Lineage first entered Spain in May 2021, with the acquisition of Frigoríficos de Navarra warehouses in Navarra and Asturias. The acquisition of Grupo Fuentes and its transport fleet is a complement to Lineage's recent expansion of its European warehouse facilities.