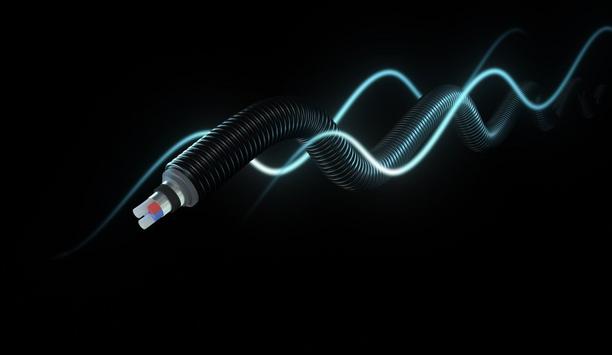 Uponor has extended its innovative EcoFlex VIP portfolio with the introduction of Ecoflex Aqua VIP, a high-performance pipe designed to make hot and cold water transportation around a home more sustainable than ever before.
The pre-insulated pipe, introduced specifically for domestic water distribution, combines heat loss performance with outstanding flexibility, ease of installation and a service life in excess of 30 years.
Total solutions provider
By adapting ground-breaking Vacuum Insulation Panel (VIP) technology, the next generation pipe delivers hot water efficiently to its distribution point by significantly reducing the heat losses that typically occur when water travels from a heat source around a building.
What's more, Uponor, the total solutions provider of systems for the safe transportation of water around a building, has designed the new pipe to be as flexible as soft foam insulated products, but with a diameter up to 30% smaller. This means that less space is needed to run the pipework around a building, saving on time and labor while also making it easier to find suitable pathways for the pipes to run. In addition, Ecoflex Aqua VIP is also highly flexible and durable, making it ideal for complex designs and projects where the installer is working in confined spaces.
Requiring additional connections
With up to 60% less bending force compared to alternative solutions on the market, Ecoflex Aqua VIP can be navigated around obstacles or laid across bumpy ground without requiring additional connections.
These qualities help to reduce the installation time of the pipes by up to 20% compared to hard foam insulated flexible pipes, and by more than double compared to steel pipes. This also minimizes potential weak points that could lead to leaks after the pipes have been laid. Ecoflex Aqua VIP joins Ecoflex Thermo VIP in the innovative range, which now provides developers and installers with the complete sustainable solution for all a project's pipework requirements.
High insulating performance
Commenting on the portfolio, Mark Dowdeswell, Senior Category Manager at Uponor, said: "Vacuum insulation panels have already proven to be one of the best insulation materials, as they are widely used for applications in healthcare, vehicles, construction and household appliances. By adapting this technology to our Ecoflex VIP range, we have managed to achieve high insulating performance with less insulation material. The flexible, multi-layer aluminum diffusion barrier also makes our pipe extremely compact and easy to handle."
"The system can be utilized for a great variety of applications, from an extensive supply network to a single connection for one building, with the flexibility of the pipe material, the convenient connecting methods and the well-attested service life, all contributing to projects being completed quickly, economically and reliably."