Industrial Refrigeration System Market size exceeded USD 15 billion in 2019 and is forecast to grow at a CAGR of around 4% between 2020 and 2026. The high demand for industrial refrigeration systems at freezing and refrigeration plants to preserve medicines and food items is anticipated to support the industry growth.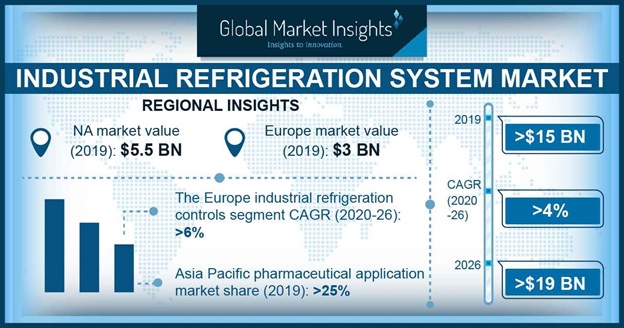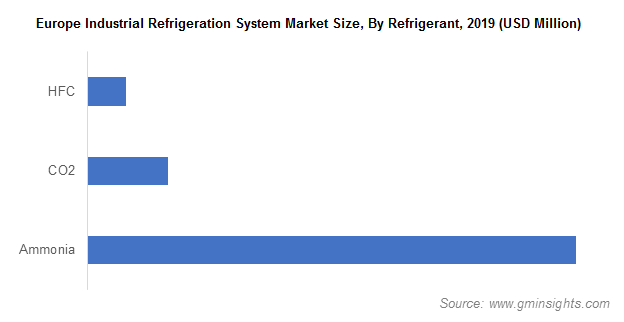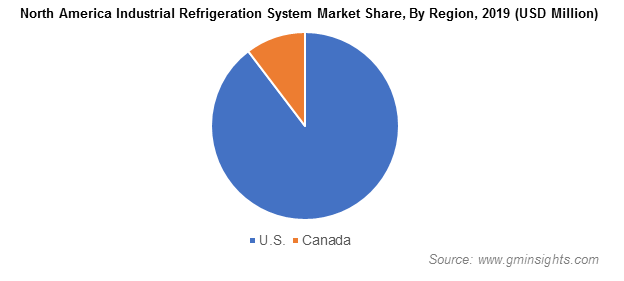 The positive outlook of the e-commerce industry can be accounted to high growth in the industrial refrigeration system market. Major retail players are expanding their presence in the e-commerce sector, providing an impetus to the industry. The increasing demand for frozen food and beverages has encouraged e-commerce companies to invest in advanced industrial refrigeration systems.
Supportive government initiatives to strengthen the cold chain infrastructure are providing new market opportunities across the globe. In September 2020, the government of India gave an approval to 27 cold chain projects through the Pradhan Mantri Kisan Sampada initiative in 11 states of India. The government announced an investment of USD 28 million in this initiative, driving the market.
Industry challenges hampering the wide adoption of industrial refrigeration systems include stringent regulations and high costs associated with refrigerants used in these systems. The rapidly increasing prices of refrigerants will hamper the market demand for large industrial refrigerators.
As per the market data shared by Carel Industries, in July 2017, the prices of R-404A and R-507 refrigerants increased by over 225%, and R-410A and R-134a prices increased by 100% in Europe. High taxes charged by government authorities on refrigerants used in industrial systems will hamper the market revenues.
Rising economic losses inflicted by the ongoing COVID-19 pandemic are expected to restrict the growing market size in 2020. The industrial refrigeration system industry is severely impacted by growing disruptions in supply chain and unavailability of raw materials. Market players are facing a huge gap in demand and supply of industrial refrigeration systems due to rising financial insecurities among industrial customers.
However, the high importance of cold storage systems to preserve and transport critical vaccines will generate new opportunities for the market during the pandemic.
North America compressors segment held around 40% of the industrial refrigeration system market share in 2019. Technological innovations and R&D investments have led to the development of energy-efficient compressors that significantly reduce the energy consumption of industrial refrigerators. The ability of compressors to consistently maintain a low temperature in industrial refrigerators is also contributing to their increasing penetration in the market.
Companies operating in the industrial refrigeration system industry are launching new models of energy-efficient compressors. For instance, in January 2020, Emerson launched its new product line of fixed speed scroll compressors, Copeland, for commercial and industrial refrigeration applications. The Copeland range of scroll compressors is optimized for low GWP refrigerants that aid the company to meet energy efficiency standards and regulations established by the Department of Energy (DOE) and California Air Resources Board. Emerson plans to launch the full lineup of its 6-40 ton compressors by 2022.
The Europe CO2 segment is anticipated to witness at more than 5.5% CAGR through 2026. The growing demand for CO2-based industrial refrigeration systems can be attributed to several benefits offered by CO2 over other types of refrigerants. CO2 is a natural refrigerant with a low critical temperature (31 degree Celsius) that assists in improving the overall efficiency of the refrigeration system without inflicting environmental damages.
The Asia Pacific food & beverage segment valued at around USD 2 billion in 2019. The high representation of this segment in the market can be attributed to the growing demand for preservation of food and drinks. The adoption of industrial refrigeration cabinets, counters, and vertical freezers is increasing rapidly in hypermarkets, supermarkets, and convenience stores, supporting the market statistics.
Growing import and export activities in the food & beverage industry are providing a positive outlook to the industry. The high demand for storage and preservation of food items to be exported across international borders is driving the industrial refrigeration system market. As per the market statistics reported by the Food & Drink Federation (FDF), food and beverage export in the UK increased by approximately 10.7% in 2019, accounting for nearly USD 7.4 billion. Industrial refrigeration systems allow for precise control of temperature and humidity, preserving all types of perishables.
The North America industrial refrigeration system market crossed USD 5.5 billion in 2019 and is projected to observe rapid growth rate over 2020 to 2026. The increasing investment in construction and refurbishment of food manufacturing & distribution facilities in the U.S. is elevating the demand for industrial refrigeration systems. For instance, in August 2018, PepsiCo invested around USD 159 million in the expansion of its Frito-Lay snack manufacturing plants in Frankfort, Indiana.
The growth of the food retail sector in Canada is surging the industrial refrigeration systems market growth. According to Restaurants Canada, the commercial foodservice sales in the region grew by 5.3% in 2018. The changing consumer preferences toward packaged food & beverages are augmenting the market for industrial refrigeration systems. In response to the shift in consumer behavior, the food & beverage industry players are engaged in R&D, consumer outreach, and expansion of plant and equipment, adding to the positive outlook for the industry.
The companies operating in the industrial refrigeration system market are actively engaged in R&D and innovations to launch new products and increase their sales. For instance, in January 2019, Johnson Controls announced the capacity expansion of its YZ magnetic bearing centrifugal industrial chiller with added capacity options of 1,000 tons (3,516 kW) and 1,350 tons (4,747 kW) refrigeration capacity.
This aided the company to cater to the growing demand from its industrial customers. Industry leaders are also laying a strong emphasis on partnerships and collaborations to leverage mutual expertise and gain a high share in the industry through 2026.
Key market players include M&M Systems, Inc., Danfoss, Johnson Controls, GEA, Dorin, Ingersoll-Rand, Emersion, EVAPCO, Inc. Bitzer, Frick India Limited, Howden Group, and Kirloskar Group.