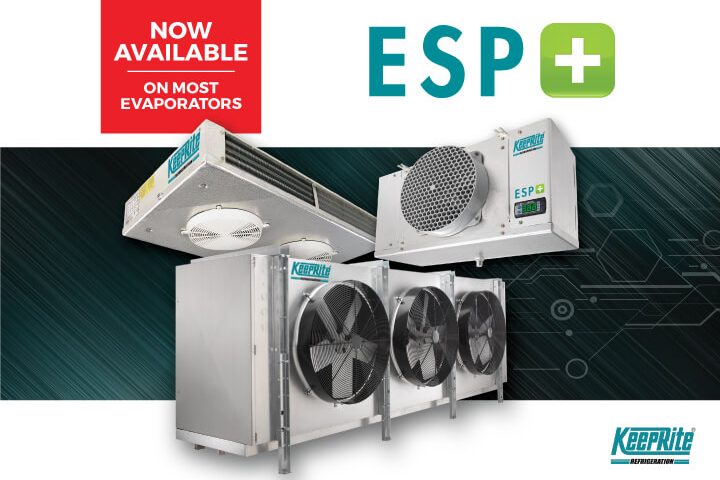 Designed to replace traditional electro-mechanical refrigeration controls typically used on medium and low temperature applications, KeepRite Refrigeration is excited to announce that latest technology innovation, ESP+, is now available on most of extensive line of evaporators.

With up to 15-20% system energy savings and improved product integrity, not to mention the fact that it comes pre-packaged and ready to install, the ESP+ intuitive evaporator control technology is now available on the following KeepRite Refrigeration evaporators:

KLP – Low Profile Evaporators
KTM – Two Way Medium Profile Evaporators
KLV – Low Velocity Evaporators
KMP – Medium Profile Evaporators
KEP – Extended Profile Evaporators
KHP – High Profile Evaporators
ESP+ Installation
There's not a whole lot of other technologies out there that are as easy to install as ESP+. In most cases: braze two pipes, connect the single point electrical service, mount the suction line temperature sensor and you're good to go. No interconnecting control wiring between the evaporator and the condensing unit is required.

Installing an evaporator utilizing the ESP+ intuitive evaporator control technology could not be any more simple.

The Benefits of ESP+
To the end user KeepRite Refrigeration's ESP+ offers the following benefits:

Up to 86% fewer defrost cycles
15-20% system energy savings
Remote monitoring and system control
User friendly interface
Precise temperature control for prolonged product shelf life
32-day history stored locally on the controller
Remotely view and change system parameters and alarm settings
Eliminates ice buildup on surfaces and product
ESP+ also offers many benefits to contractors including:

Complete pre-assembled package for quick and simple installation
Effortless initial start-up
Improved system diagnostics and service through advanced alarm notification text/email
Easily troubleshoot issues
Complete isolation from condensing unit
ESP+ Saving You Energy
Did we mention our ESP+ intuitive evaporator control technology is also now available in our energy calculator? Using our energy calculator, you can discover the amount of energy savings our ESP+ technology can save you in your exact location. Watch our tutorial videos to get the most accurate energy savings analysis and discover your savings today.

By combining award-winning adaptive technology along with an electronic expansion valve, KeepRite Refrigeration continues to be The Right Choice for the Refrigeration Professional with innovative, state-of-the-art designs.