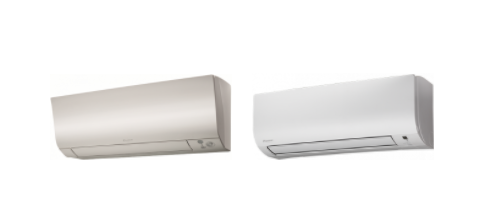 The new Daikin Perfera FTXM-N air-to-air heat pump offers an energy efficient all-in-one solution to homeowners to meet their heating, cooling and air purification needs.

The Daikin PerferaFTXM-N is one of a range of market-leading residential climate control solutions which uses R-32 refrigerant: an alternative with low environmental impactdelivering outstanding energy performance with a minimal Global Warming Potential (GWP). Using advanced inverter control technology, thePerfera system is powered by 80% renewable energy from the air and 20% by electricity.

The enhanced design of the next generation PerferaFTXM-N delivers a substantial increase in energy efficiency over previous models, with a SEER of up to 6.81 and a SCOP up to 5.1providing best-in-class performance to A+++ standards for greater economy in running costs.A built-inenergy savingfeature detects when rooms are empty and automatically adjusts settings to reduce energy consumption, while inverter technology minimises running costs.
With its upratedspecifications, the Perferanow offers an even wider operational range, providing effective cooling from -10°C to 50°C and heating from 24°C down to -20°C, and ensuring reliable performance to meet thenew extremes of Europe's changing climate.

Whisper Quiet
As with its predecessor, the new Perfera FTXM-N incorporates effective noise reduction technology. Sound levels have been further reduced in the new Perfera FTXM-N indoor and outdoor units, to offer near-silent running in the home and making it the ideal choice for urban areas.

Cleaner air
The new Perfera FTXM-N incorporates Daikin's advanced Flash streamer technology to achieve a cleaner, healthier indoor environment. The Flash streamer removes dust particles, allergens, odour, bacteria and viruses to deliver year-round pure, fresh air.

Easy to use and control
The latest Perfera FTXM-N now comes with Daikin's online controller as standard. The new smart controls make it easier to adjust system settings and timers from anywhere in the house or remotely, via a smartphone using the Daikin app. The controller's powerful functionality allows you to check your energy consumptionand keep spending on track.