The 2018 half-annual report of 30 listed refrigeration companies was collected by Coowor. The data showed that the refrigeration industry as a whole was in a development trend of rapid growth. There were 27 enterprises with year-on-year growth in operating revenue, 3 enterprises with negative growth, 21 enterprises with year-on-year growth in net profit and 9 enterprises with negative growth.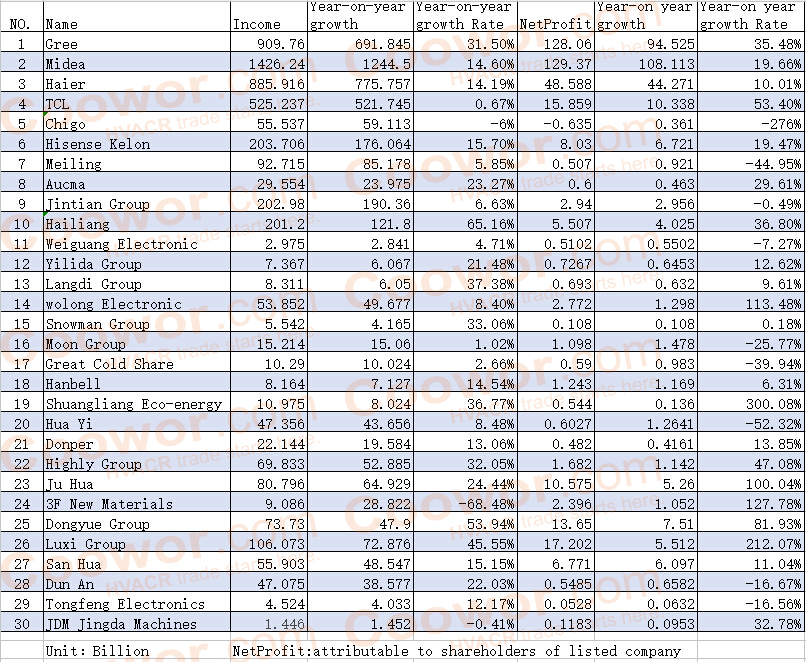 According to the 2018 semi-annual report of 30 listed refrigeration enterprises, we can know the following things.
NO.1
The air conditioning enterprise still maintains rapid growth, but the concentration degree of the brand continues to improve, the polarization is serious, especially the enterprise which Gree,Midea and Haier as the representative obtains the remarkable achievement.
NO.2
The income of refrigeration equipment enterprises has increased, while the net profit growth has not kept pace, and even the relatively large negative growth like ice wheel and big cold has appeared.
NO.3
Fan motor business revenue growth fast, and net profit growth in each of them.
NO.4
Compressor enterprises have better revenue growth, increased industry competition makes the profit margin is relatively low. Closely watched Highly's net profit rose as much as 47.08 percent.
NO.5
The chemical industry has seen rapid revenue growth, with net profit growth of over 100% on average.The price center of fluorine chemical industry chain has been moving upward mainly due to the impact of the supply contraction of upstream fluorite and the high pressure reduction of environmental protection in fluorine chemical industry.
NO.6
The sales growth of refrigeration parts is higher than the average level of the industry, and the net profit growth is not as fast as the revenue growth, which also indicates the increased competition in the industry and the rise of raw materials and artificial labor, reducing the profit growth.
NO.7
The listed copper processing industry's two leading enterprises ----Jintian Group and Hailiang both had sales of more than 20 billion yuan in the first half. Through a series of acquisitions, Hailiang's revenue growth in the first half reached a staggering 65.16 percent, the fastest growth rate among the 30 listed companies.
According to the report of Golden Dragon Precise Copper Tube Group Inc., this company has achieved sales revenue of 19.9 billion in the first half, up 59 percent year-on-year, and profit of 125 million, up 20.4 percent year-on-year.The sales of the three major copper enterprises in the first half of the year are equal, but the scale effect of the leading enterprises is close to squeeze the living space of medium and small copper enterprises.