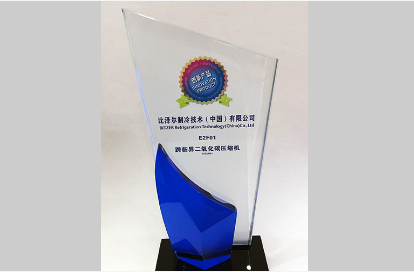 From 9-11 April 2018, Bitzer exhibited a comprehensive range of products for CO2 applications at the trade fair.
The Innovation Product Award was handed to Bitzer for its Ecoline+ reciprocating compressor with IQ module for supermarket applications, also exhibited at China Refrigeration 2018.
Stephan Luerssen, managing director of Bitzer Refrigeration Technology China, said: "We at Bitzer have been building up our experience with natural refrigerants for years, even decades. Winning this award confirms our belief that natural refrigerants are the way to go in China and around the world."
Ecoline+ for intelligent supermarket applications
The Ecoline+ series with its enhanced line start permanent magnet motor increases annual performance figures by more than 10 percent.
Bitzer has also designed Varistep mechanical capacity control for transcritical CO2 applications, which permits the operation of Ecoline+ reciprocating compressors with a cooling capacity between 20-100 percent almost continuously.
With the intelligent operating and protection concept for the optional IQ module CM-RC-01, BITZER is ensuring optimum efficiency from the Varistep capacity control system, as well as the supply of oil and the efficient use of the crankcase heater.
The mechanical capacity control system's full potential can be exploited thanks to the integrated Bitzer CR algorithm.
The IQ module ensures that the Ecoline+ reciprocating compressors can be easily, quickly and cost-effectively integrated into a variety of system configurations, and improves protective measures and monitoring options for the compressors, allowing them to be used in a wider range of applications.