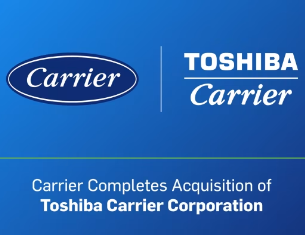 Carrier Global Corporation, the leading global provider of healthy, safe, sustainable and intelligent building and cold chain solutions, has completed its acquisition of substantially all of Toshiba Corporation's ownership stake in Toshiba Carrier Corporation (TCC). A longstanding joint venture between Carrier and Toshiba, TCC is a global provider of residential and light commercial HVAC solutions, including VRF and heat pump products.

"This acquisition presents tremendous growth opportunities for Carrier in the fast-growing, energy-efficient VRF and heat pump markets," said David Gitlin, Chairman & CEO, Carrier. "Toshiba Carrier's differentiated technology, strong channel and global design and manufacturing footprint allow us to benefit from growing electrification and sustainability trends. We are thrilled to welcome the 6,600 talented TCC employees to the Carrier family."

Building on Carrier's previous acquisition of Guangdong Giwee Group, TCC will join the newly created Global Comfort Solutions business unit within Carrier's HVAC segment. The new business will be headquartered in Tokyo under the leadership of Saif Siddiqui, a seasoned Carrier leader who will report directly to HVAC segment President Chris Nelson. Mr. Toru Kubo, who has served as President & CEO of TCC, will be joining the Global Comfort Solutions leadership team reporting to Siddiqui.

Carrier acquired substantially all of Toshiba's interest in TCC for approximately $900 million, subject to customary closing adjustments. For the fiscal year 2021, TCC had annual sales of approximately $2 billion.