On May 13th, RACC committee paid a visit to Haiding Cooling and Heating Technology Co., Ltd in Ningbo, Zhejiang Province as scheduled. Later joined by other advanced foreign trade companies, RACC committee aimed to exchange ideas and experience on foreign trade strategies as well as to explore new directions and methods of business growth in current situation through this meeting.
Thorough communication with Haiding
Been a good friend with RACC for many years, Haiding Cooling and Heating Technology Co., Ltd, has always been an excellent exhibitor in the field of foreign trade, developing in the refrigeration industry for over 20 years and owning 2 sub-companies and 4 holding companies, which are all driven by research, innovation and lean manufacturing. At present, Haiding has more than 100 supplier networks, and the products are mainly sold to Spain, Germany, South America, the Middle East and other countries and regions, enjoying high popularity and solid market foundation in the refrigeration industry.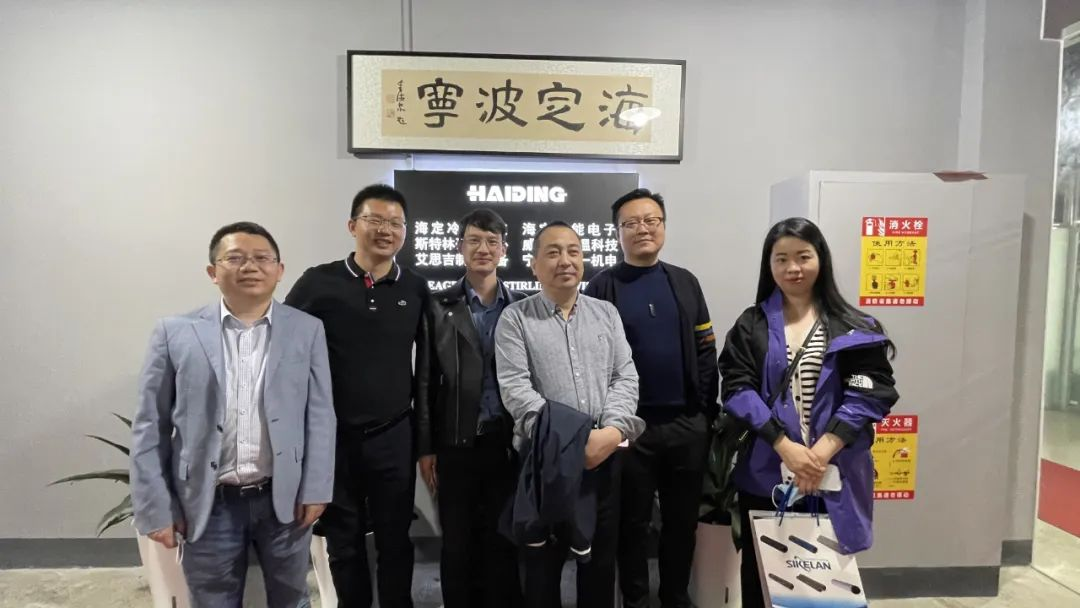 Visit Haiding sample room
RACC committee were introduced to one of the sample rooms of Haiding, and thus gained a deeper understanding of the company's products and efforts on foreign trade market in the recent two years.
During the visit, RACC committee showed confidence that with the joint cooperation of major organizers, including government organizations and HVACR associations, there is every reason to believe the coming RACC exhibition will be another success, and no doubt the exhibition will also bring new opportunities for companies, especially those who are experiencing difficulties in the field of foreign trade during the pandemic. In addition, as RACC's official cooperation platform, Coowor.com is constantly assisting the show with its global source of over 300,000 buyers and latest real-time procurement information, companies' brand influence will be significantly improved around the world.
Business dinner with representatives of foreign trade enterprises
On the evening of the 13th, RACC committee organized a business dinner for local enterprises. President Lv of RACC expo expressed gratitude for all the kind support and trust from Ningbo foreign trade enterprises that had attended RACC shows in the past two years. Moreover, President Lv promised that the next show would only be more splendid, aiming to take participants' experience in HAVCR expo to a whole new level.
The guests attending the dinner included President Qiu of Zhejiang MAIDI Refrigeration Technology Co.,Ltd , President Ye of ICOOL Ningbo Co., Ltd., President Yu of LongTerm Electric Co., Ltd, President Cai of Zhejiang SIKELAN Refrigeration Technology Co., Ltd, President Zhao and President Pan of Cooling and Heating Technology Co., Ltd, President Wang of Ningbo Sanhe refrigeration equipment Co., Ltd, President Yang of Ningbo Yongqi Trading Co., Ltd, President Cheng of Ningbo ZENTEC Air Conditioning & Refrigeration Co., Ltd., President Xu of Ningbo Anda Refrigeration Equipment Co., Ltd., President Wang of Ningbo Bolangde Hardware Co., Ltd, which are all foreign trade oriented enterprises.
During the business dinner
Through in-depth communication, it is learned that many foreign trade enterprises are still under the big impact of the COVID-19 pandemic. Unable to participate in exhibitions abroad or visit customers, enterprises have to face many difficulties in the process of developing the international market. Many of them also suffer from the pressure on international logistics and rising freight costs.
However, when referring to the recent devaluation of CNY, it is believed that some export-oriented manufacturing industries may usher in potential opportunities during this period of time. It seems the devaluation of CNY will also benefit HVAC and refrigeration industry to some extent. Despite of the rough situation, the constant passion in market development is considered to be the most valuable and inexhaustible motive force in such a difficult period. RACC believes that all-win outcome will be achieved when enterprises all act with united strength.
Given the fact that the success of RACC exhibitions has created a new way for enterprises to explore HVACR market, surely it will continue serve both buyers and suppliers as a professional and international exchange platform. The high-quality exhibition service of the organizing committee has been praised by numerous enterprises, including those in Ningbo. RACC expo has become a significant channel for a growing number of companies to obtain customers and for foreign trade enterprises to purchase various products. As always, these local companies are going to attend the exhibition this November, making full use of the annual exhibition to achieve potential cooperation and exchange the latest information and technologies of the industry.