Quzhou Rongqiang Chemical Co., Ltd. has signed a contract with 2021 China International Refrigeration and Cold Chain Exhibition (RACC2021), booth number 1B-E13! In the last exhibition, the person in charge of Rongqiang Chemical attended the exhibition and attended the "First Refrigerant Development Summit Forum". The good exhibition experience and the hot professional audience flow on the spot were widely praised and highly praised by the exhibitors. Rongqiang Chemical will participate in the exhibition as a professional refrigerant manufacturer and attend the "The 2nd China Refrigerant Development Summit Forum and Order Fair", looking forward to establishing cooperative relations with more companies and receiving more orders!

Quzhou Rongqiang Chemical Co., Ltd. was founded at the end of 2006 with a registered capital of 39 million yuan and covers an area of ​​20,000 square meters. It is a comprehensive private enterprise integrating refrigerant charging and management; it is located in a national high-tech industrial park, China The largest fluorosilicon industrial park-the high-tech zone of the green industry cluster of Quzhou City.
Enterprise Honor
Since its establishment, the company has strictly adhered to the criteria of "lawful operation, paying taxes in accordance with the law", adhering to the concept of "sincere cooperation, forge ahead", adhering to the principle of "safety first, prevention first", attaching importance to internal management of the company, and through the unremitting efforts of all employees, Safety work and business operations have made considerable progress. At present, a refrigerant filling line with an annual output of more than 20,000 tons has taken shape. The company has successively obtained the Zhejiang Industrial and Commercial Enterprise Credit Grade AA "Contract-honoring and Credit-keeping" Unit, and was assessed by the Quzhou State Taxation Bureau and the Local Taxation Bureau as Grade A Taxpaying Credit Rating, and the Hangzhou Customs Class A Enterprise Certificate is the first to obtain the "Safety Security" certificate in Quzhou City. One of the enterprises that meet the standard of production standardization.
Extensive brand influence• Products sell well all over the world
Relying on the resource advantages of well-known domestic refrigerant brands, the company mainly produces and operates a series of products such as green refrigerants, Freon substitutes, fire extinguishing agents, and chlorides. It has the ability to mix and fill various environmentally friendly refrigerants and Freon substitutes for more than 20,000 tons per year. The main products are R22, R134a, R404A, R407C, R410A and other types of refrigerants, covering all refrigerant packaging specifications on the market. It can also produce according to customers' OEM, and also develop the market for various domestic and foreign well-known brand refrigerants. Product sales have developed from domestic trade in South China, East China, and Central China to international trade in Southeast Asia, the Middle East, South America, Africa, Japan, South Korea and other countries and regions.
High-quality products and services• Good market reputation
Strong warehousing and operation capabilities have established a good market reputation and high-quality products and services for Rongqiang in the competition, which are well received and favored by users at home and abroad. The number of customers has steadily increased, and good economic, social and environmental benefits have been achieved. In the face of a challenging future, Rongqiang Chemical will never forget its original intention and continue to move forward.
Products Show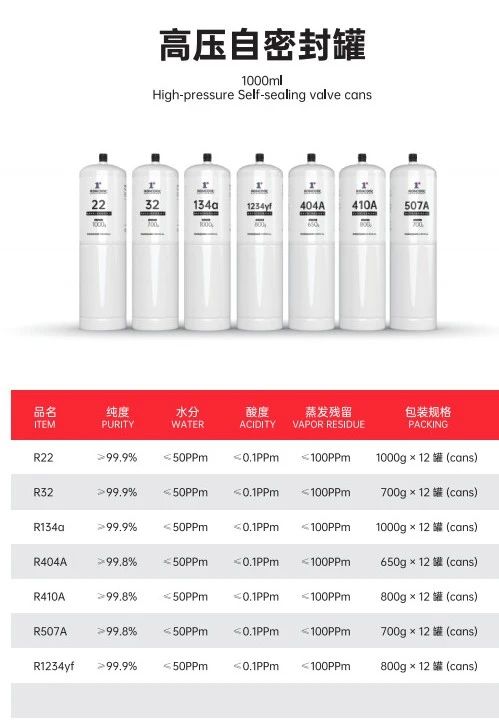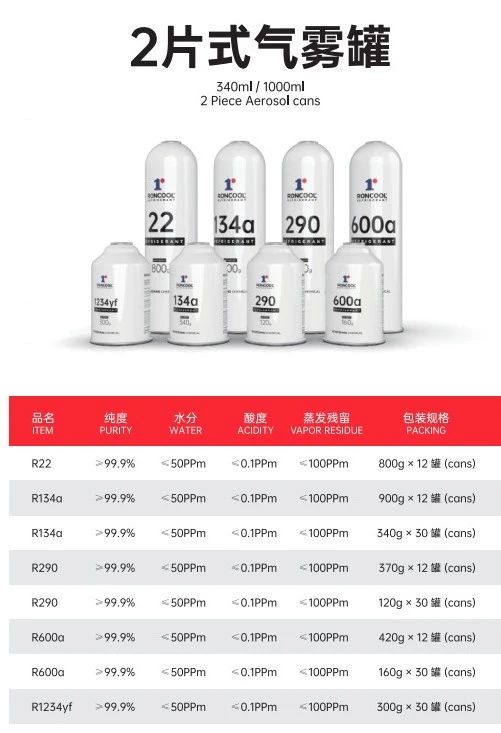 更多产品请扫码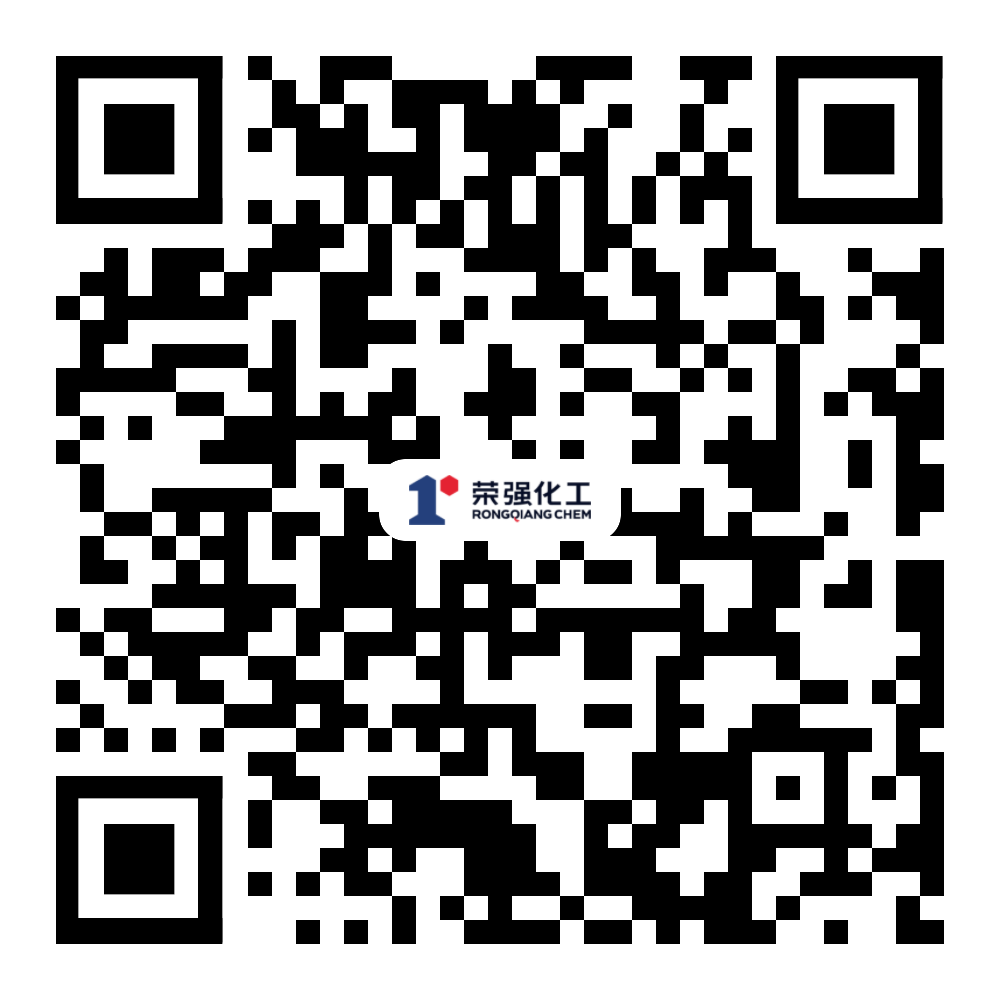 The scale of 2021 China International Refrigeration and Cold Chain Exhibition will be further expanded. There will be 4 exhibition halls in the exhibition hall with an exhibition area of ​​50,000 square meters. It is expected that there will be more than 1,000 exhibitors, more than 20 industry segment forums, more than 60,000 professional visitors, and global supply ,International Purchasing. Government support, by the China Council for the Promotion of International Trade Construction Industry Branch, China Chamber of International Commerce Zhejiang Chamber of Commerce, Zhejiang Refrigeration Society, Zhejiang Refrigeration and Air Conditioning Industry Association, Jiangsu Refrigeration Society, Zhejiang Fluorochemical Industry Association, Zhejiang Fluorine Material Industry Technology Innovation Nine authoritative units jointly organized by the Alliance and Shanghai Cold Chain Branch to create a world-renowned international refrigeration exhibition.
Zhejiang Province is China's refrigeration industry base and the main producer of refrigerants. "The 2nd China Refrigerant Development Summit Forum and Order Fair" is jointly organized by Zhejiang Fluorochemical Industry Association and Zhejiang Fluorine Material Industry Technology Innovation Strategic Alliance. It will be held at the Hangzhou International Expo Center on October 22. In the preparatory process, we listened extensively to the suggestions of many experts, scholars and business leaders. In this forum, guests will interpret industry policies, development trends, and showcase new products and technologies, and hold an order meeting between the supply and demand sides to start cooperation and make the forum more pragmatic and efficient.
The organizing committee will increase its publicity and promotion efforts, and invite more government authorities, industry experts and scholars, as well as refrigerant production, filling, wholesale, distributors, agents, air-conditioning manufacturers and foreign trade export companies to attend this forum and place orders meeting. The time will also be changed from half a day to a full day for the first session, increasing order fairs and holding industry dinners to provide more opportunities for interaction and communication. More than 400 industry insiders are expected to participate in this forum.
There will be more participating brand companies, larger scale and stronger influence in this forum, and it will become the most influential refrigerant industry exchange event of the year. "The 2nd China Refrigerant Development Summit Forum and Ordering Fair" has unlimited business opportunities, and we look forward to the vast number of enterprises to register and participate, and win-win cooperation!
FORUM REVIEW
The first "China Refrigerant Development Summit Forum" in 2020 was hosted by Chen Guangming, Chairman of Zhejiang Institute of Refrigeration. The speakers of the forum were Zhang Zengying, Secretary-General of Zhejiang Fluorochemical Industry Association, and Director of Compound Application Laboratory of Zhejiang Juhua New Materials Research Institute Co., Ltd. Wang Binhui, Xu Jiangtao, Director of Marketing Department of Zhejiang Sanmei Chemical Co., Ltd., Cui Xiaoyong, Sales Manager of Zibo Feiyuan Chemical Co., Ltd., Liang Bin, Deputy Director of Domestic Trade Department of Zhejiang Yonghe Refrigeration Co., Ltd. (from left to right).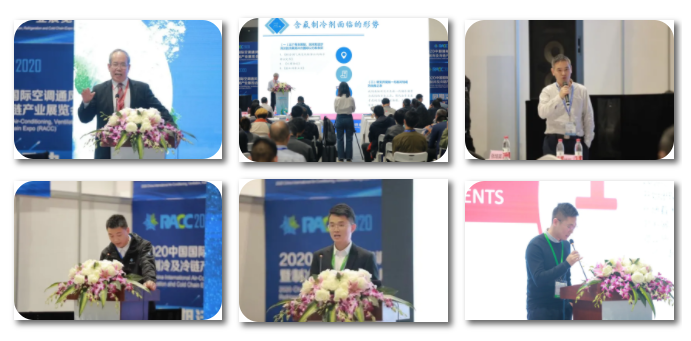 A total of more than 150 people engaged in refrigerant production, filling, wholesale, distributors, agents, and foreign trade export enterprises participated in the forum, which established a professional communication platform for the supply and demand sides of the refrigerant industry. The forum was successfully held and received extensive support. And praise.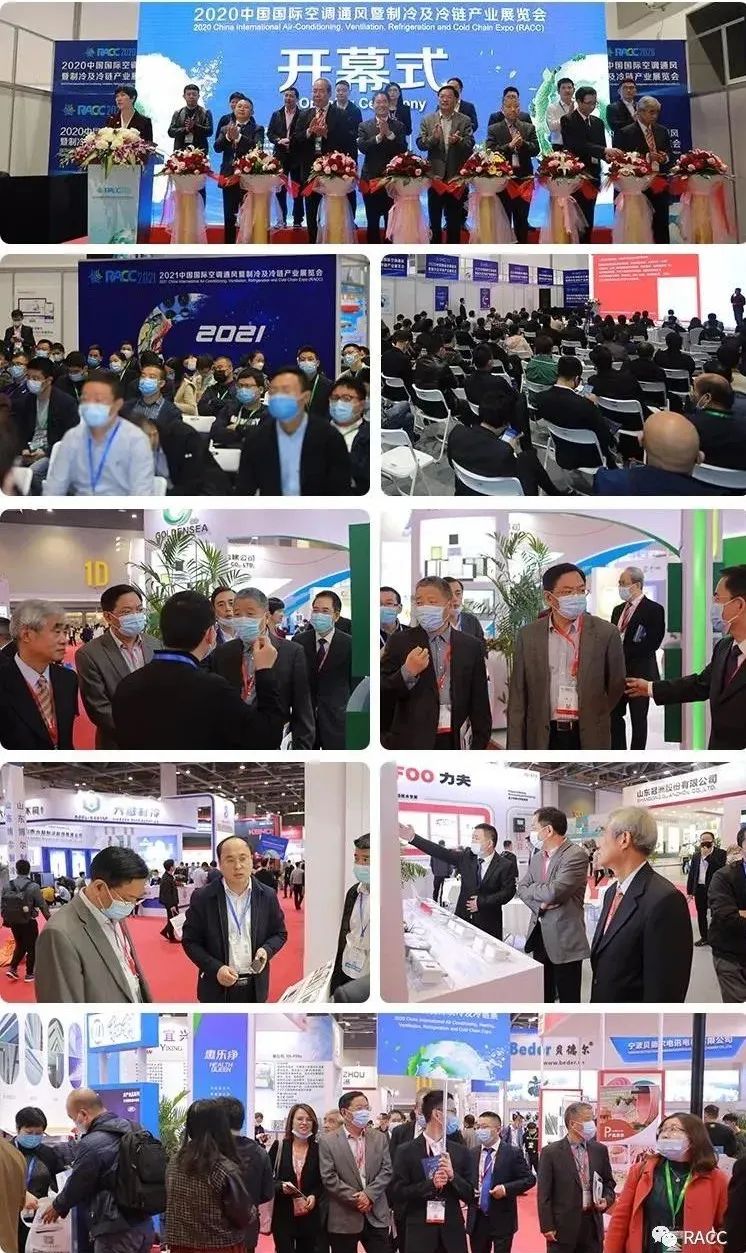 End