Recently, Xinwu Riveting and Fastening Systems (Shanghai) Co., Ltd. renewed its contract for the Refrigeration and Cold Chain Exhibition of China (RACC) to be held in Hangzhou International Expo Center in 2021, and expanded the booth area to 12 square meters, booth No. 1B-H27. At the exhibition, it is not only possible to focus on displaying products for professional visitors, but also to enhance the brand's industry influence and open up the vast market. This is an important reason for Xinwu's contract renewal. Enterprises are welcome to come to negotiate and consult!
Xinwu Riveting Fastening Systems(Shanghai)Co.,Ltd 
Xinwu Riveting Fastening Systems (Shanghai) Co., Ltd is an innovative manufacturing enterprise specializing in the field of riveting and fastening, specializing in the development and manufacture of various riveting tools, rivets, rivet nuts and other supporting fastening products. Since its establishment, the company has relied on its strong R&D strength (average of 4-5 new patent applications per year), advanced processing and manufacturing equipment, scientific and complete ERP production process management, reliable product quality and rare high-quality in the industry The professional team configuration is an important reason for Xinwu's rapid development and growth, and it has grown into a current domestic supplier of riveting and fastening systems with core competitiveness.

Have a professional R&D center and a large manufacturing base
The company has professional R&D centers and large-scale manufacturing bases for riveting and fastening products in Shanghai and Jiangsu. It fully adopts computer three-dimensional software (soldworks/UG/Proe/3DMax) and industrial 3D printing rapid prototyping technology to assist development, and introduces NC machine tools and multi-station cold Advanced production equipment such as pier machines and continuous mesh belt heat treatment furnaces actively adopt international standards for efficient production, and pass strict physical and chemical testing procedures and full quality system control to ensure that product quality can meet the increasing riveting reliability requirements of domestic and foreign users.
Blind rivet nut riveting demonstration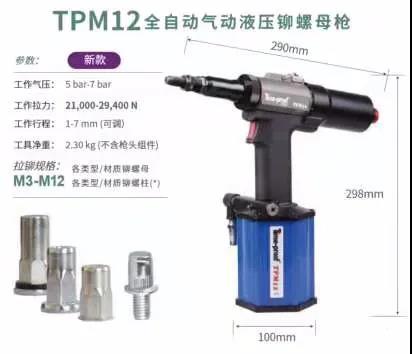 High-strength structural rivets
1. High tensile and shear connection strength
2. Single-sided operation, convenient and fast
3. It has high shock resistance and is suitable for the connection of automobile structural parts
Seahorse rivet riveting demo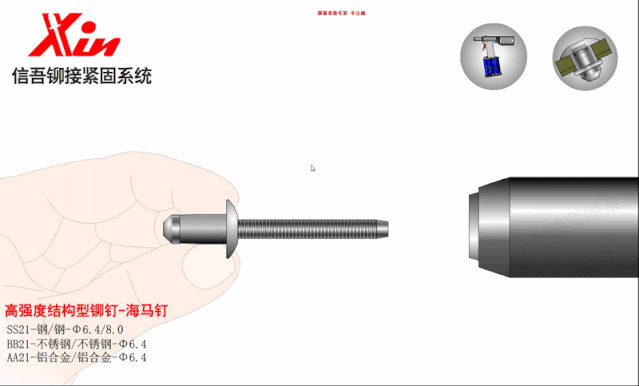 Wire drawing rivet riveting demo
Ring groove rivet riveting demonstration
Complete product categories and wide coverage
Xinwu riveting and fastening system has a complete range of products and a wide coverage. It meets ISO/GB/CE/IFI/DIN and other national standards. The product materials cover: MONEL, Carbon steel, Stainless Steel, Aluminium, Copper, etc., and the surface treatment process is ordinary environmentally friendly electroplating , Phosphating, anodizing, passivation, baking varnish, Dacromet, zinc-nickel environmental protection plating, etc., Xinwu series of open/closed blind rivets, special open blind rivets, high-strength structural rivets, blind rivet nuts/ Studs, pressure riveting nuts/studs and other products, as well as the Tebef series of industrial-grade riveting assembly tools are widely used in cold storage trucks, new energy systems, ships and marine equipment, construction, electronics and many other industries. The company develops more than 10 new products every year and applies for a number of patents.
Looking forward to this year's China Refrigeration and Cold Chain Exhibition (RACC2021), Xinwu will bring us more abundant products and receive more orders!
End