Since this year, as the New Coronavirus epidemic continues to spread globally, it has been declared by WHO to have pandemic characteristics. Countries have introduced entry-exit control measures for personnel and goods in response to the epidemic, The global exhibitions have basically been cancelled or postponed,which seriously hindered international economic and trade exchanges and posed severe challenges to foreign trade enterprises to consolidate and expand overseas markets.
As far as the HVACR industry is concerned, Zhejiang Province, as a global industrial base, foreign trade is particularly affected. In order to implement the requirements of the Provincial Party Committee and the Provincial Government on the overall planning and promotion of epidemic prevention and control and economic and social development, and to stabilize foreign trade, support companies to actively use digital methods to promote international trade transactions. In order to the requirements of the Provincial Party Committee and the CCPIT, Hangzhou Fima Exhibition Co., Ltd. will hold the "Quality Zhejiang Virtual Expo (HVACR)" from June 29 to July 9.
The project relies on Coowor, a professional international trade platform for HVACR industry developed by Coowor Network Technology Co., Ltd. to organize 100 brand enterprises in the HVACR industry in Zhejiang Province to conduct online exhibition and business matching for one year; During the period, special seminars with the theme of refrigeration and cold chain, and HVAC were held respectively, each of which organized 50 Zhejiang enterprises for four days.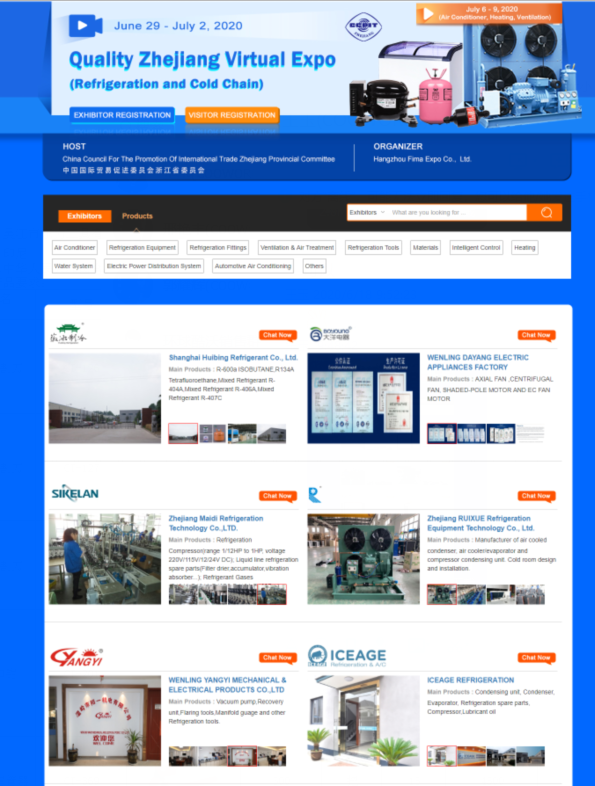 It will realize real-time and efficient interaction between suppliers and overseas purchasers through the chat system developed by Coowor and the third-party application zoom video conference system. This is the first online exhibition of professional HVACR industry in China, which will explore new ways of communication between supply and demand sides under the epidemic situation.