BSRIA will be attending and presenting at the forthcoming BIG 5 show in Dubai on 26th November. With a number of factors influencing this important market, Saziye Dickson Global Research Manager of Air Conditioning, Ventilation and Refrigeration portfolio for BSRIA will be presenting the most up to date market outlook, including growth drivers and challenges for the MEP and HVAC-R Industry. The presentation will also give the attendees the chance to network with BSRIA's team of global experts, including representatives from BSRIA's Test and Membership teams.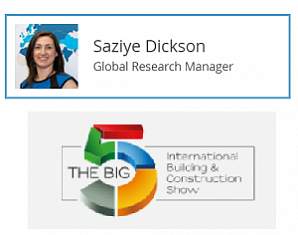 The presentation entitled: Market outlook: Growth drivers and challenges predicted for the MEP and HVACR industry in Middle East, will explore the key challenges, the advance of Smart and the ever-changing competitive landscape.

Key topics for BSRIA BIG 5 Dubai Presentation:

Climate Change continues to place unprecedented pressure on HVAC-R industry. The market continues to grow despite the many challenges. New entrants to the market on the one hand and consolidation of existing market players on the other hand are changing the competitive landscape. This in return is driving players to increase their R&D activities to stay ahead of the competition. BSRIA will be analysing how these developments have been embraced in each region.
Saziye will also touch on how HVAC-R products fit into today's SMART Buildings and the benefits that they can bring. BSRIA's latest global research into BACS will evaluate and explain the growing importance of software and the Cloud, IP connectivity and convergence.
Finally, BSRIA will benchmark the Middle East and Africa HVAC-R market against the rest of the World.

Saziye Dickson said:

"The Big 5 is the region's most important event for the Construction industry and BSRIA is proud to be speaking at such a prestigious expo. Indeed, the HVAC R Expo provides the perfect platform for BSRIA to share the latest global industry trends. With sustainability and wellbeing high on the agenda, our presentation will give everybody the perfect opportunity to hear the impact of those and other drivers on the market and will provide an overview of the resulting opportunities".