According to Chinese customs, China's annual import and export value hit a new high in 2018, ranking the first in the world. Among them, exports were $2.48 trillion, up 9.9%. Imports were $2.14 trillion, up 15.8%. The trade surplus narrowed 16.2% to $351.76 billion, the lowest since 2013.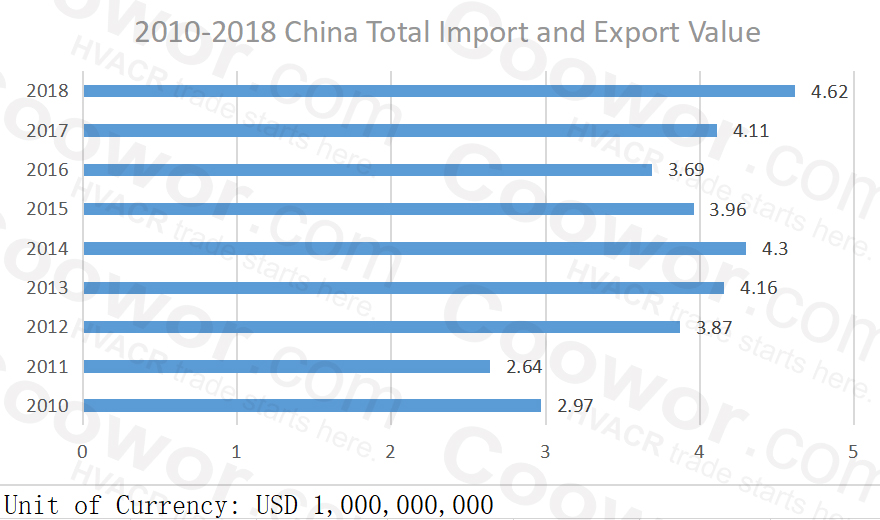 Last year, the import and export value of China's major trading partners increased generally. According to Chinese customs' statistics, the United States, Japan, South Korea, Taiwan, Germany, Australia, Vietnam, Brazil, Malaysia and Russia all occupy the top ten countries and regions in China's import and export trade in 2018 with a scale of over 100 billion U.S. dollars, among which Brazil and Russia have a growth rate of more than 25%. The EU remains China's biggest trading partner in 2018.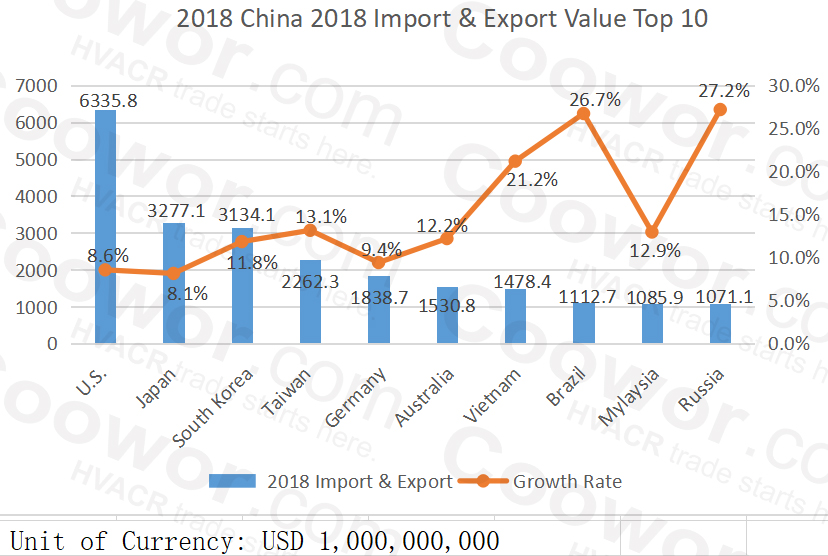 In 2018, China's exports continue to lead, and the export partners top 10 countries and regions of China are the United States, Japan, South Korea, Vietnam, Germany, India, Netherlands, the United Kingdom, Singapore and Taiwan.

China exported $478.4 billion to the United States in 2018, up 11.3 percent year-on-year. China's trade surplus with the United States grew for the second year in a row to the highest level since statistics began in 2006.

It is worth noting that the number of domestic enterprises with achievements in import and export has increased from 436,000 in the year of 2017 to 470,000, with a wider range and larger scale. Among them, mechanical and electrical products export proportion increased and export commodity structure continued to optimize.
The diversity of Chinese trade market has made great progress. China are developing economic and trade exchanges with other countries and regions in the world, and maintaining growth with regular trade partners in the meantime. The trade growth between China and "Belt and Road" partners, Africa, Latin America, are 3.6%, 6.7% and 6% respectively. Most of the total trade value has increased significantly. The potential of trade cooperation between China and "Belt and Road" countries is being continuously released, becoming a new driving force for the development of China's foreign trade.
Under the condition of expanding domestic imports, China's import and export volume in the first four quarters of 2018 were 6.76 trillion yuan, 7.36 trillion yuan, 8.18 trillion yuan and 8.21 trillion yuan respectively and were increasing quarter by quarter. The value of imports and exports in the third and fourth quarters both exceeded 8 trillion yuan. The top ten countries and regions in terms of foreign imports are: South Korea, Japan, Taiwan, the United States, Germany, Australia, Brazil, Vietnam, Malaysia and Russia. South Korea has been China's biggest source of imports for three years with more than $200 billion.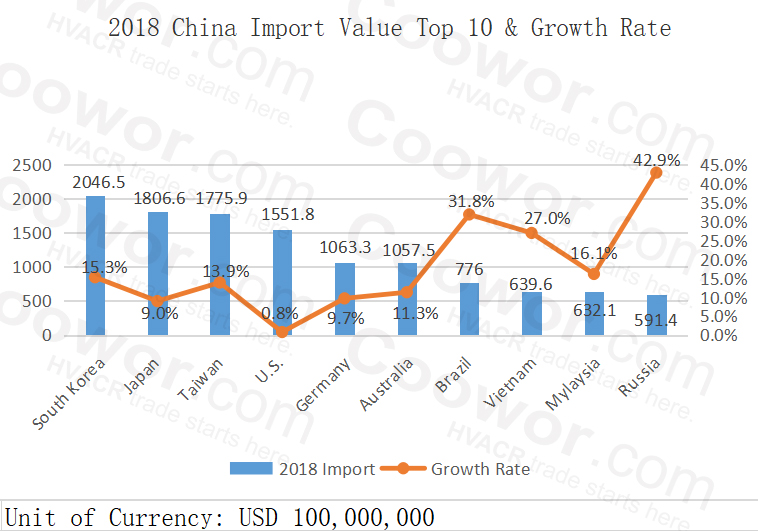 Attached: China's 40 Major Import & Export Partners