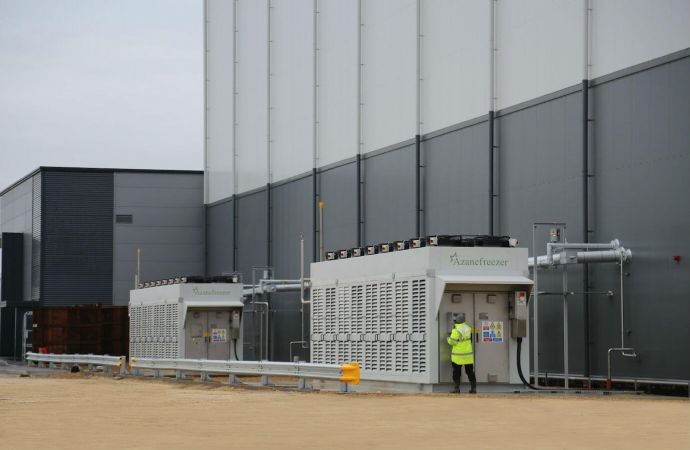 Star Refrigeration's Azanefreezer 2.0.
Star Refrigeration's Azanefreezer 2.0, an industrial freezer using natural refrigerant ammonia at low charges, is delivering energy cost savings of up to 66% vs. UK benchmark figures.
The Azanefreezer 2.0 is a new iteration of Star's air-cooled industrial freezer package designed for cold storage and food processing applications, such as blast and spiral freezing. It can be charged with as little as 0.52 kg/kW of ammonia.
Average energy consumption figures for chilled and frozen storage facilities across Europe are about 50% higher than the figure declared to be best practice by the UK government, according to research conducted by Prof. Judith Evans et al. for the International Institute of Refrigeration.
Recent energy performance data analysis for the Azanefreezer 2.0 indicates that its annual energy usage is one third that of the UK's best-practice guidelines – hence the 66% saving.
"We're really excited about the launch of Azanefreezer 2.0, because the stunning improvement in energy consumption sets a new benchmark landscape for freezer performance," said Rob Lamb, group sales and marketing director at Star Refrigeration.
"As a pre-packaged low-charge ammonia freezer, the Azanefreezer 2.0 is completely unique in the industry," Lamb said.
The Azanefreezer 2.0 is available in capacities of up to 650 kW and delivers temperatures down to -40°C. Multiple units can be used for larger capacity installations.
It uses on-board PLC hardware and software to deliver optimised system efficiency including compressor sequencing and condenser and evaporator EC fan speed control.
In designing the new Azanefreezer, Star listened to customer concerns about energy bills, with some temperature-controlled storage business reporting 30% price hikes in the past year.
"Many businesses are witnessing how the costs of their energy bills outweigh the costs of their workforce," Astrid Prado, marketing mangager at Star Refrigeration, told ammonia21.com.
"Large users of refrigeration are primarily focusing on cutting energy consumption and carbon footprint, both long-term issues which tie in with climate change targets and environmental sustainability," Prado said.