At 10:00 am on MAY 8, 2018, the three-day 2018 ARBS opened at the ICC SYDNEY, Darling Harbour. As one of the largest exhibitions in the global HVAC industry, there are more than 350 exhibitors and 9,000 visitors participating in this year's Refrigeration Show. There will be related companies, industry organizations, and government agencies from many countries and regions around the world. The exhibits will cover all the well-known brands in the global HVAC industry. his event is forecast to be the largest ARBS to date and cannot be missed for anyone involved in HVAC+R and building services, according to the event's organizers.
Main entrance
Audience Registration & waiting for the entry

Famous enterprises
Toshiba
Toshiba Air Conditioning is committed to delivering the highest standard of quality and innovation across our product range and services. For more than 40 years Toshiba Air Conditioning has led the world in creating better air conditioning and setting new standards in comfort, ease of use, energy efficiency and climate control. The Toshiba Air Conditioning product range encompasses a comprehensive Inverter range to suit residential and light commercial applications. Toshiba Inverter systems provide excellent energy efficiency, are reliable and run on R410A non-ozone depleting refrigerant.
Panasonic
Panasonic is a world leader in air conditioning and will be displaying some of its new products and technologies for both the commercial and residential market at this year's ARBS Show.
Fujitsu
Fujitsu is Australia's leading supplier of air conditioning products. Focusing all of our research and manufacturing strengths into one core area has resulted in the world-class, market-leading air conditioning products. We have developed a range of cost effective air conditioning for every space or taste. Our units cover both residential and commercial applications.
Mitsubishi Electric
Mitsubishi Electric is one of the world's leading names in the manufacture and sales, of electrical and electronic products and systems used in a broad range of fields and applications. As a global, leading green company, we're applying our technologies to contribute to society and daily life around the world. Simultaneous Heating & Cooling System Mitsubishi Electric is proud to showcase the latest in water cooled and Hybrid VRF technology. Speak to us at the show to learn more about the models. Also available from Mitsubishi Electric is a comprehensive range of other products such as residential and light commercial air conditioning, Climaveneta Chillers, LOSSNAY Energy Recovery Systems, air curtains and jet towel hand dryers.
Mitsubishi Heavy Industries
Mitsubishi Heavy Industries provides an assured future through Technologies and Passion. Mitsubishi Heavy Industries aim is to provide the next generation with an assured future of comfortable living.
Daikin
At Daikin, we're not just in the business of air conditioners. We're in the business of human comfort. Our passion for designing and engineering smart technologies ensures comfort levels are maximised. As one of Australia's most trusted names in air conditioning, Daikin can be found in homes, businesses, and community projects across Australia. We have been heating and cooling Australian homes for almost 50 years, so we're used to dealing with the extremes of the harsh Australian climate.
Samsung Electronics
Samsung air conditioning systems are held in high esteem around the world and have been selected for a multitude of prestigious developments including airports, stadiums, landmarks, hotels, shopping centres, office buildings and residential complexes. The Samsung Air Solutions team is fully committed to the Australian commercial market. We can fully support your project at each stage from system design and selection, supply chain management, installation and commissioning, technical support and after sales service.
ZIEHL-ABEGG
ABOUT ZIEHL-ABEGG Fascination, innovation and always being one step ahead – these are the aspirations of our globally active company in the competence areas of ventilation systems, control engineering, drive and automotive technology. The company has been achieving great things since it was founded by Emil Ziehl in Berlin in 1910, and today has its headquarters based in Künzelsau, Baden-Württemberg. This is also the location of our InVent development and competence centre, where revolutionary advancements and pioneering technologies are born. A place full of unique inventions to benefit our customers in the form of first-class products that are highly efficient and reduce emissions.
Trane (Distributed By Veolia)
As a global leader in environmental solutions, we work closely with all aspects of local government and some of Australia's largest industrial and commercial companies to help them reach their sustainability goals; providing them with large-scale innovative water, energy and waste solutions. We aim to replicate natural systems to solve man-made problems. As a part of Veolia's capability in energy, the company is a licensed and authorised distributor of Trane heating, ventilation and air-conditioning solutions, and Trend building energy management systems.
Ebm-Papst A&NZ
ebm-papst is the leading global manufacturer and supplier of fans, blowers and air-moving products. Our high-efficiency EC motors are standard in the ventilation, air-conditioning and heating markets. Our offices in Melbourne, Sydney and Auckland consist of a team of qualified engineers, developers, logistics professionals and other staff that account for more than 100 years of combined fan engineering experience.
CAREL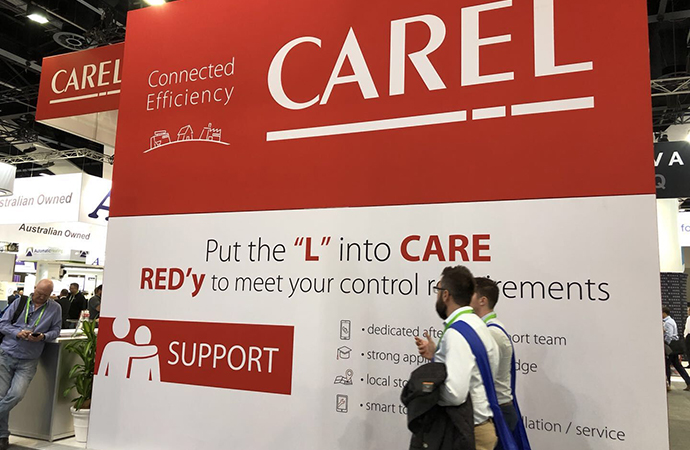 CAREL is one of the world leaders in control solutions for air-conditioning, refrigeration and heating, and systems for humidification and evaporative cooling. Our products are designed to bring energy savings and reduce the environmental impact of machinery and systems. Our solutions are used in commercial, industrial and residential applications.

About Coowor
Reporter exchanged with well-known exhibitors, recording their new products, new technology and to establish good relations of well-known enterprises and they are very optimistic about the development of the coowor.com when they learned that Coowor.com to participate in more than 30 international refrigeration show each year and at the exhibition site to distribute the Buyers'Guide For HVACR Trade to buyers, more and more well-known enterprises recognized the promotion model of Coowor.com and hope that by joining coowor.com, raising brand awareness and preparing for opening up a new international market.