At 9:00 am on April 9, 2018, Beijing time, the three-day 2018 China Refrigeration Exhibition was officially opened at the China International Expo Center. As one of the largest exhibitions in the global HVAC industry, there are 1,140 exhibitors participating in this year's Refrigeration Show. The total exhibition area is 106,800 square meters and the net area is 46,431 square meters. There will be related companies, industry organizations, and government agencies from more than 30 countries and regions around the world. The exhibits will cover all the well-known brands in the global HVAC industry. Nearly 60,000 people including professionals and users from more than 100 countries and regions are expected to come and negotiate.
It is reported that the China Refrigeration Exhibition 2018 is the largest one in recent years and has reached a record high. In this exhibition, many well-known enterprises exhibited with famous products like Gree, Midea, Haier, Dunan Environment, Carel, Bitzer, etc.

Photo reports
Haier
Haier launched the world's first global IoT magnetic suspension, and introduced air-cooled heat pump magnetic levitation central air-conditioning with industry-leading technological innovation. While achieving a wide range of silent operation, ampere start, and overall performance 30% higher than traditional heat pump units, it was also successful. Breaking the air-cooled magnetic levitation "cooling is not heating" industry's biggest restraint.
GMCC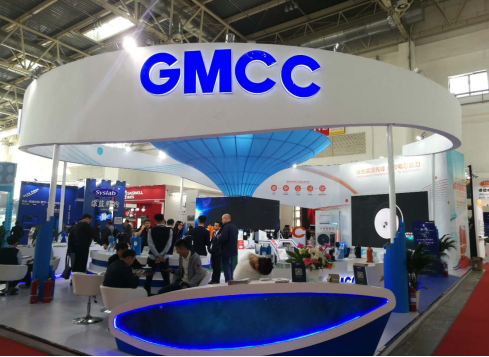 GMCC is a precision manufacturing company that specializes in R&D, production, and sales of rotary and reciprocating refrigeration and ambient air conditioning compressors. The products are widely used in various types of air conditioners, refrigerators, freezers, heat pump water heaters, and dehumidifiers,dryers, refrigerated cars, drinking fountains equipment and other fields.
Bingshan
Bingshan is a large mixed-owned enterprise group with 88 years of history. It has established a listed company, 18 Sino-foreign joint ventures, and 24 domestic-funded enterprises centered on industrial cooling and heating, commercial refrigeration, air-conditioning and environment, core components, engineering and services, and new businesses. It has total assets of 13 billion yuan with 12,000 employees. Bingshan is a green equipment manufacturing company that has mastered the core refrigeration technologies in China and has maintained the leading position of China's refrigeration industry for more than 20 years.
Bingshan is the forerunner in the development of China's cold and heat business for overseas markets. After nearly 30 years of deep cultivation, the current cold and hot products, engineering and solutions of Bingshan have served more than 70 countries and regions. In recent years, with the further advancement of the One Belt One Road Strategy, Bingshan Group has joined forces with strategic partners to actively participate in international capacity cooperation and strengthen the construction and service of cold and heat related businesses in Africa, Southeast Asia, South Asia, Central Asia, Central and Eastern Europe, and Central and South America in order to achieving the in-depth expansion of the One Belt and One Road market space.
Midea
For over 30 years Midea has been making and supplying air conditioning and household white goods and appliances to a global market. Midea started by producing air conditioning and quickly built their global reputation in the years following becoming one of China's largest manufacturers. Today Midea produce more air conditioning globally than almost any other manufacturer – 30% of all the air conditioners in the world come out of Midea's international manufacturing plants destined for over 150 countries. Midea's impressive headquarters is located in Guangdong Province, China. There are five other major manufacturing plants around China with another six around the world, producing a thousand different products at a rate of nearly one hundred thousand a day. Castel Electronics is the Australian Distributor of Midea's extensive range of domestic and commercial air conditioning systems
Midea's central air-conditioner is the first brand in the field of domestic centrifugal units, and also the first domestic central air-conditioning brand that has research and development and manufacturing centrifuge technology has been developed successively including ordinary series centrifuges, MC series centrifugal units, high-pressure centrifugal units, and water source heat pumps. Centrifugal units, high-efficiency falling film magnetic suspension centrifugal units, high-efficiency frequency conversion direct-drive falling film centrifugal units, including a series of centrifugal units. Domestic brands have emerged in the centrifugal unit market, making the "technical barriers" traditionally established by foreign brands have finally ceased to exist.
GREE
Gree Electric Appliances Inc. of Zhuhai is an international air conditioning enterprise which has integrated R&D, manufacturing, marketing and service. So far, it has developed three brands, namely GREE, TOSOT and KINGHOME, with a wide product range which includes residential air conditioners, central air conditioners, air source water heaters, smart phones, home appliances, refrigerators,as well as intelligent equipments, compressors, motors, moulds and other industrial products. In 2015, Gree ranks No. 385 in Forbes Global 2000 and No. 1 in household appliances industry.
In addition to the magnetic suspension frequency conversion centrifuge, photovoltaic multi-line + G-IEMS local energy Internet system, GMV ES2 DC inverter multi-connection, frequency conversion module machine 65kw and a series of Gree star HVAC equipment successively debuted, providing one-stop and full range of HVAC equipment solutions for commercial scenarios.
Gree's latest release, "half of the electricity consumption," GMV ZhiRui family central air-conditioning also unveiled at CR Expo 2018 to showcase its "Internationally Leading" variable-frequency variable-capacity technology and distributed air supply technology.
Bitzer

BITZER, the world's largest manufacturer of refrigeration compressors, Bitzer manufactures and markets its reciprocating, screw and reel, pressure vessels and heat exchangers globally through its distributors and production facilities. BITZER showcased its latest highlights in Beijing Refrigeration Exhibition 2018, which is China's most important refrigeration exhibition. From April 9th to April 11th you can see energy-efficient reciprocating, screw and scroll compressors for use in a variety of refrigeration and air conditioning applications.
Honeywell
Honeywell is an international company engaged in the development and production of self-controlled products. The company was founded in 1885 and has more than 100 years of history as an international company. In 1996, it was ranked as one of the most popular high-tech companies that is admired by the US "Fortune" magazine. It is a multinational company with a sales volume of US$33.37 billion (2011) and a world leader in diversified technology and manufacturing (the Top 500 ranked 280).Honeywell President and CEO Darius Adamczyk said: "Honeywell expects to continue to maintain high quality revenue growth in 2018. This is mainly due to the large amount of investment in our product portfolio, including the introduction of new products. , capacity development, R&D, acquisitions and restructuring, etc.
Carel
CAREL is the world leader in HVACR control solutions and humidification and evaporative cooling systems. Its products are designed to bring about energy savings and reduce the environmental impact of machinery and systems. CAREL was established in 1973 and today's total sales amounted to 231 million euros (13,5% more than in 2015).
Moon

Moon Group was founded in 1956. It is a large-scale group enterprise that operates cross-industry and internationalization with leading industries such as cryogenic freezing, central air conditioning, environmental protection heating, sealing technology, precision castings, and energy and chemical equipment. The Moon Environmental Technology Co., Ltd., the core enterprise of the Yantai Moon, was listed on the Shenzhen Stock Exchange in 1998.
The steam booster unit can recover waste steam and exhaust steam, improve the waste steam and the grade of spent steam through the compressor, and deliver high-grade saturated steam to the outside. This product can be widely used in food processing, chemical production, wastewater treatment, heating, material drying, cooking sterilization and other fields.
Nidec

Nidec's new SCE series is a new generation of highly efficient R290 eco-friendly compressor developed on the basis of the SC platform. The series of SCE21MNX is a 21cc large displacement medium back pressure R290 compressor, evaporation temperature range -20 °C ~ 7. 2 °C. Through the new mechanical structure design, the refrigerant circulation circuit is improved. Under the premise that the appearance does not change, the compressor's COP cooling capacity can be greatly improved by up to 1783W, COP 2.18, and efficiency increased by 32%. It inherits the excellent reliability of the SC compressor. Sex. At the same time, the new SCE compressors reduce the amount of lubricant lost during operation and reduce the amount of compressor oil entering the refrigeration system. It can not only improve the compressor's cooling capacity in the customer's system, but also reduce the possibility of compressor wear failure due to lack of oil.