BITZER, the world's largest independent manufacturer of refrigeration compressors is exhibiting its latest product highlights at HVAC&R 2018 in Tokyo, the most important Japanese trade fair for refrigeration and air-conditioning. From 27 February until 2 March 2018, energy-efficient reciprocating, screw and scroll compressors can be seen at the company's stand (hall 4.5.6, stand W-501) for a wide variety of refrigeration and air-conditioning applications.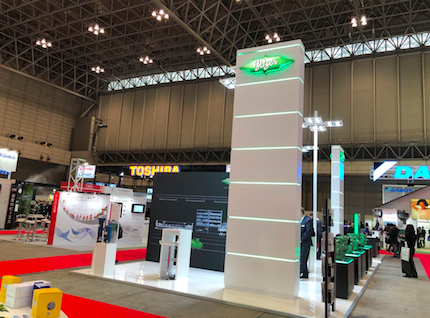 We are very happy that we can present so many product highlights for BITZER Japan's tenth anniversary at the important refrigeration and air-conditioning trade fair,' says Ferdinand Spannan, Managing Director of BITZER Japan. At our 90-square-metre stand we will inform our visitors, for example, about our innovative ECOLINE+ reciprocating compressors for transcritical CO₂ applications, which are particularly suitable for supermarket applications and are available in both 4- and 6-cylinder versions.' The ECOLINE+ series features an improved motor technology which fully exploits the motor's high efficiency and the low heat input of the CO₂ refrigerant. With the help of line-start permanent-magnet (LSPM) motors, the compressors achieve a seasonal energy performance ratio (SEPR) up to 14% higher (annual performance figure). The ECOLINE+ series' other strengths include its mechanical capacity control for transcritical applications, which enables outstanding system efficiency in both full and partial load, as well as its innovative operating concept with intelligent modules (IQ).

Suitable for almost all application areas

Also to be seen at the BITZER stand are the 2DME-7K semi-hermetic reciprocating compressors for subcritical CO₂ applications, with high pressures of 100 bar on both the high- and the low-pressure sides. There are eight models in this energy-efficient and reliable series, which was specially designed for high standstill pressures and condensing temperatures.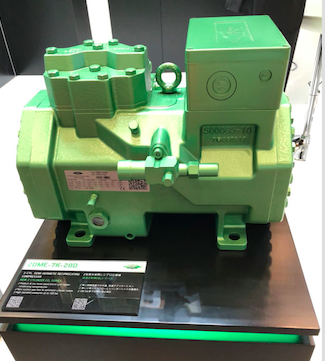 Besides that, BITZER is showing its open OS.A95 screw compressors for eco-friendly ammonia-based applications in industrial refrigeration and air-conditioning systems as well as in heat pumps. The OS.A95 series extends the capacity range of the open BITZER screw compressors for ammonia-based applications up to 1,015 m3/h at 2,900 rpm per compressor. By connecting up to four compressors in parallel, it is possible to increase the flow rate in compound operation up to 4,060 m3/h at 2,900 rpm. With the optional frequency inverter operation of the OS.A95, both the achievable cooling capacity as well as the seasonal efficiency of the compressors in the system can be increased even further. Typical applications include large commercial refrigerated and low-temperature refrigerated distribution warehouses, shock freezers, process chillers and ice rink systems. The IQ module, which comes as standard, protects the OS.A95 screw compressors while enabling communication with a higher-level system controller.
In the field of scroll compressors, visitors to the fair will be able to see an exhibit of the ORBIT series. ORBIT scroll compressors were developed especially for air-conditioning and heat pump applications. They are easy to install, offer high energy efficiency when fully or partially loaded and have the lowest noise emissions in their capacity class. They are interchangeable, thus allowing system designers and manufacturers to simplify development work by using the existing framework, footprint, piping layout and manufacturing processes. This results in reduced complexity and applied costs as well as a quicker time to market for new systems.
For mobile applications, BITZER developed its SPEEDLITE scroll compressors with two capacities (ELV21 and ELV51). The environmentally friendly air-conditioning and heat pump solutions were designed for mobile use, such as in buses and trains, but also for stationary applications. 'Electrification plays an important role for us in the latest developments for buses. Thanks to the internal frequency inverter and the EC motor technology, the capacity of the SPEEDLITE compressors can be smoothly adjusted between 2,500 and 8,000 rpm,' explains Oliver Rathfelder, Director of the Sales Transport division at BITZER.