ISK-SODEX is one of the most important Turkish trade fairs for building automation and energy efficiency – an area, in particular, in which BITZER is not to be missed. From 7 to 10 February 2018, BITZER will exhibit various highlights from its reciprocating, screw and scroll technologies at stand A26 in hall 2 at Tüyap Fair Convention and Congress Centre.
'ISK-SODEX 2018 is a great platform for BITZER to demonstrate the value of efficient compressors when it comes to energy consumption both in refrigeration and air-conditioning,' states Michael Eichberger, Managing Director of BITZER Austria – the compressor specialist's subsidiary responsible for the Turkish markets. 'Here we can not only show that energy efficiency and great performance go hand in hand with our solutions, but we can also demonstrate just how many-sided our products are. Also our long-standing distribution and representative partner Totem, who is a big part of BITZER's success in the Turkish market, will accommodate various BITZER solutions at its stand, among them compressors, condensing units and oil separators.' BITZER itself will bring along compressor solutions that are suitable for almost all application areas.
Versatile reciprocating compressors – ECOLINE and VARISPEED
With displacements between 3 and 157 CFM (60 Hz) and a variety of approved refrigerants such as R404A, R407A, R407C, R407F, R448A, R449A, R507A, R290 and R1270, ECOLINE reciprocating compressors are suitable for a whole host of applications. They feature the integrated suction gas-cooled VARISPEED frequency inverter for infinitely adjustable capacity control. With a range of 25 to 87 Hz, VARISPEED provides 45 per cent more capacity at full speed and nearly 40 per cent less capacity at its lowest speed. The result is precise temperature control with the lowest power consumption. Another benefit of the VARISPEED is that regular servicing and a cooling fan are no longer necessary, as the frequency inverter's suction gas-cooled operating elements ensure optimal component temperatures at all times. Operating above the supply frequency makes it possible to increase the overall cooling capacity of the compressor by up to 70 per cent during peak load periods compared to operations within the supply frequency.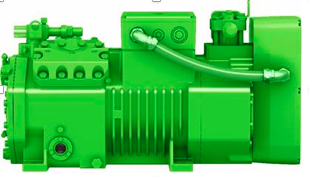 High cooling capacities in extreme ambient temperatures: CSH compact screw compressor
Semi-hermetic CSH compact screw compressors from BITZER are eminently suitable for air-conditioning systems as well as for cooling standard and reversible chillers and heat pumps. The application limits were designed for high condensing temperatures and pressure ratios, which result in excellent seasonal efficiency (ESEER/IPLV and SCOP values). Their displacement is between 137 m3/h and 1,120 m3/h, depending on the model. Improved oil management enables compact screw compressors to achieve high cooling capacities even in extreme ambient temperatures. They can feature either a stepped or infinite capacity control that enables OEMs to design robust, high-end chillers with outstanding energy efficiency values.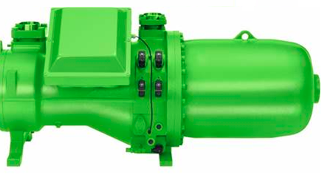 Greater flexibility – superior energy efficiency: BITZER CSVH screw compressors
BITZER's CSVH screw compressors offer a unique benefit: they are extremely efficient in that they are optimised for use in air-conditioning systems, reversible chillers and heat pump applications as well as in industrial process cooling. BITZER has integrated the liquid-chilled frequency inverter into the compressor, and it's carefully fine-tuned in the factory and configured for maximum efficiency. The result is outstanding seasonal efficiency (ESEER/IPLV values). The CSVH series is therefore unrivalled among air-cooled liquid chillers with dry expansion.
ORBIT scroll compressors with greater flexibility and efficiency than ever before
ORBIT scroll compressors were developed especially for air-conditioning and heat pump applications. They are easy to install, offer high energy efficiency when fully or partially loaded and have the lowest noise emissions in their capacity class. They are interchangeable, thus allowing system designers and manufacturers to simplify development work by using the existing framework, footprint, piping layout and manufacturing processes. This results in reduced complexity and applied costs as well as a quicker time to market for new systems. They have expanded operating diagrams for heating or data centre applications. The compressors offer exceptional energy efficiency in both part- and full-load operation, which results in extremely high EER, ESEER/IPLV and SCOP values, and reduces operating costs.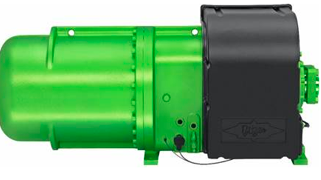 ORBIT compound assemblies, consisting of two (tandem) or three (trio) compressors connected in parallel, are made possible by the BITZER Advanced Header Technology (BAHT) system. This oil management solution simplifies design work and reduces applied costs. Four BAHT piping kits make it possible to build numerous different tandem and trio compressor combinations.