Local time on 14-16 January 2018, the world's third largest refrigeration market, Saudi Arabia's first largest Refrigeration Exhibition HVACR in Saudi Arabia was opening. 79 enterprises have taken part in this show. Famous HVACR enterprises must miss this big show,such as Carrier, Samsung, LG,Midea,etc.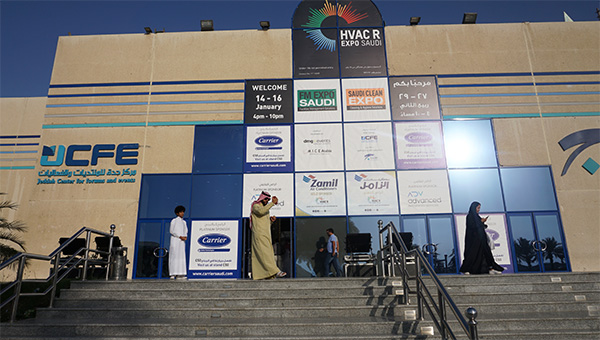 Saudi Arabia's unique climate and geographical environment make it become the largest refrigeration market in the Middle East. With the oil industry in a less prosperous condition, the Saudi government has vigorously promoted its domestic construction. In the coming years, Riyadh, its capital, has 500,000 construction plans, There are countless shopping malls, business and leisure centers, hotels, supermarkets, schools and restaurants. Due to the abundant liquidity in Saudi Arabia and the indispensability of air conditioning in office buildings and villas, they often pay considerable fees. The hot and dry climate in Saudi Arabia helps to promote this trend. Well-known refrigeration companies are valued for these reasons, have appeared in this refrigeration show.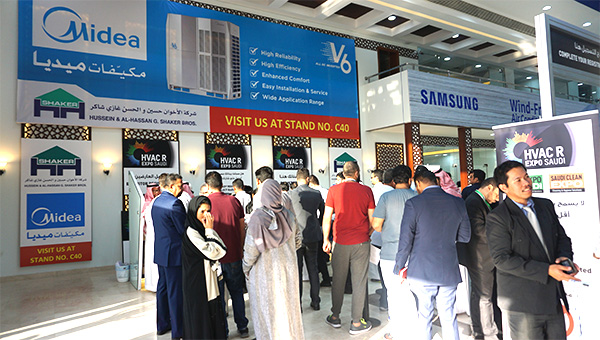 Photo reports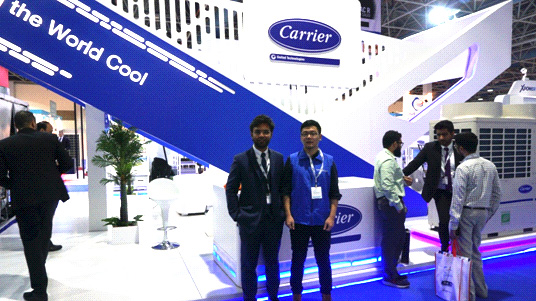 Built on Willis Carrier's invention of modern air conditioning in 1902, Carrier is a world leader in heating, air-conditioning and refrigeration solutions. We constantly build upon our history of proven innovation with new products and services that improve global comfort and efficiency. Water-Cooled Chiller was dislayed at HVACR saudi.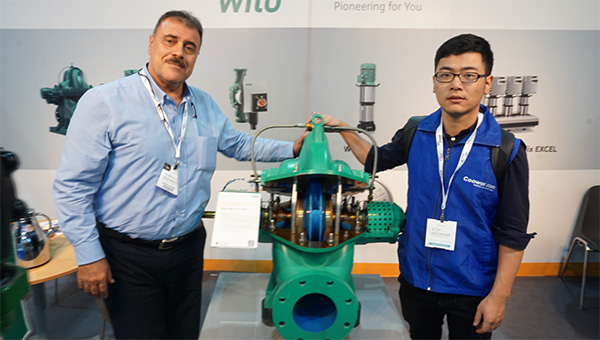 WILO SE, the world's leading supplier of water pumps and pumps, was founded in 1872 in Dortmund, Germany. It has branches in more than 60 countries and regions, with more than 7,000 employees worldwide.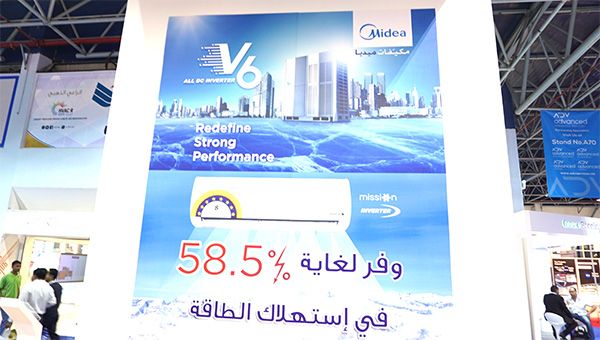 Midea is a leading technology group in consumer electronics, HVAC, robot and industrial automation systems to provide diversified products and services, Midea stick to the principle of "creating value for customers", is committed to creating a better life.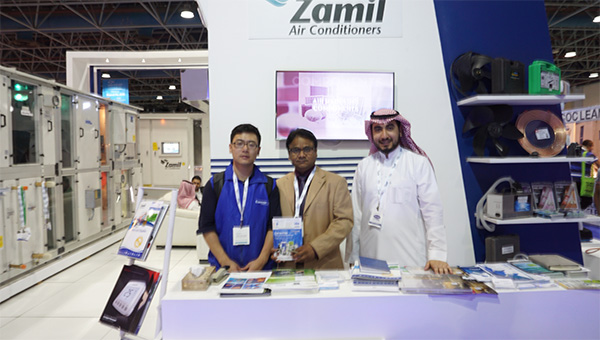 Zamil Air Conditioners (ZAC). a sector business of Zamil Industrial is the largest supplier of air conditioners in the Middle East. It manufactures and markets a whole range of air conditioners from Room air conditioners to packaged units to large Chillers for residential, commercial and industrial applications.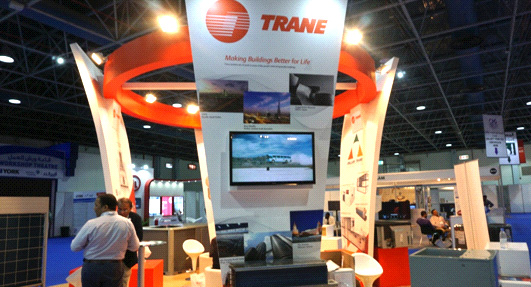 TRANE is the world's leading provider of indoor comfort systems and integrated solutions, headquartered in Wisconsin, USA. We are committed to providing customers with high efficiency and energy saving heating, ventilation and refrigeration air conditioning systems, services and spare parts support, as well as advanced building automation and financial solutions.
The HVACR EXPO , Saudi Arabia, LG environmental protection and energy saving as the theme shows the energy-saving air conditioning, environmental protection and energy saving air conditioning has been on the function of powerful and humanized design was welcomed by the family, LG continuous innovation more energy conservation and environmental protection air conditioning technology, the net filter, temperature control, energy saving, etc, have outstanding performance, to make your home life more comfortable and healthy.
York Co was formally established at town of York of the United States in 1874, in December 2005, Johnson controls has successfully acquired York International Company (the world's largest independent HVAC, refrigeration equipment and service provider) and its integration into the benefits business of building facilities. YORK is now a brand owned by Johnson controls,understanding and technical research on temperature control by relying on Johnson control, York provides air conditioning control solutions worldwide. Glass thermostat, Smart air condiontiong and refrigerating equipment was displayed at HVACR expo Saudi.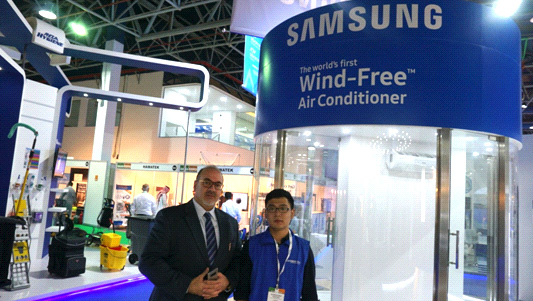 Samsung Gulf Electronics unveiled: The world's first "Wind-FreeTM" wall-mounted air-conditioner, designed for Saudi Climate. This air conditioner has integrated Samsung's exclusive Wind-FreeTM Cooling technology into its design, providing customers with a cooler indoor climate, and optimal energy efficiency, without the discomfort of direct cold airflow.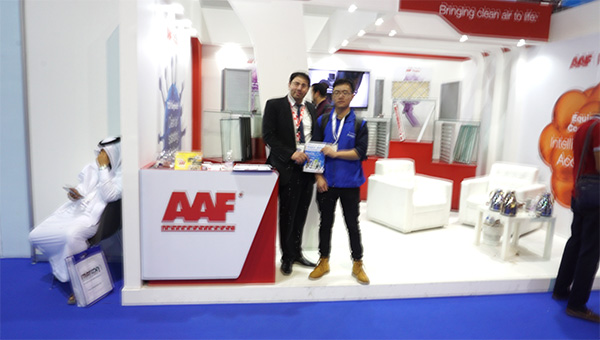 In 1974,AAF is the largest manufacturer and distributor of air filter products and equipment in the world. The product is sold by the AAF brand.AAF products including commercial, industrial and residential air filters, pollution control products and systems, as well as the machinery and noise control system, apply to the global electronics industry, pharmaceutical industry, hospital, auto manufacturing and material processing and metallurgy industries

about Coowor.com
On site. Report Steven exchanged with well-known exhibitors, recording their new products, new technology and to establish good relations of well-known enterprises and they are very optimistic about the development of the coowor.com when they learned that Coowor.com to participate in more than 30 international refrigeration show each year and at the exhibition site to distribute the Buyers'Guide For HVACR Trade to buyers, more and more well-known enterprises recognized the promotion model of Coowor.com and hope that by joining coowor.com, raising brand awareness and preparing for opening up a new international market.
Coowor colleagues introduce the Buyers' Guide For HVACR Trade and coowor. com to the exhibitors and buyers.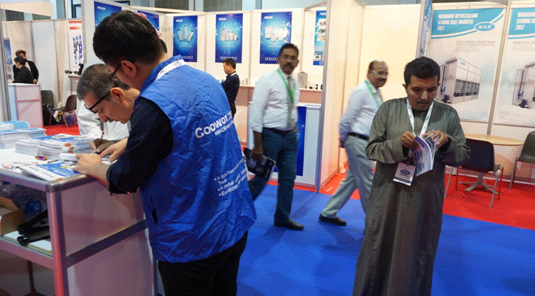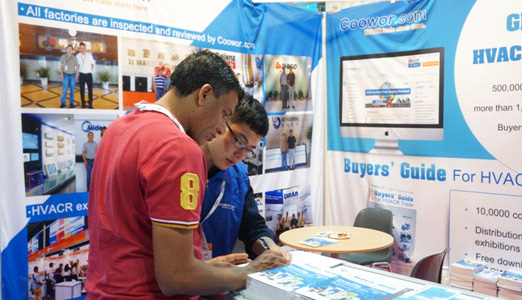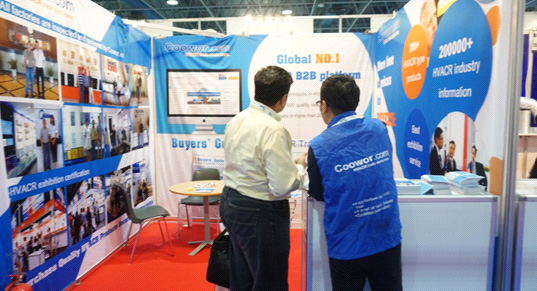 Time is always passing away. Reporter Steven has a further understanding of the air conditioning market in Saudi Arabia. The early Saudi Air conditioning market is basically occupied by Japanese air conditioners. However, due to price advantages, air conditioners from South Korea and Thailand are gradually replacing Japanese air conditioners as the mainstream products of Saudi air conditioner market. However, in recent years, more advantages in quality and price of the China air conditioning in Saudi Arabia ", continue to "take cities and seize territory", now it is gradually replacing the air conditioners in South Korea and Thailand, becoming the mainstream of the Saudi Air conditioning market. At present, GREE, Midea and other Chinese Air Conditioning brands have entered the Saudi market, and more and more local companies have begin to represent Chinese brands in Saudi.